Triga recent releases

Triga Double Packs
2 DVDs for the price of one

Warning:
By entering this gay DVD site, you certify that you are of legal age in your country to view the adult hardcore all gay action sex films offered here on DVD, and are of legal age to purchase them. You are also agreeing that you are not offended by nudity and/or sexually explicit material, including nude photos and hardcore gay adult dvds.
Triga Films - latest UK Gay DVD Releases
Gangland Cock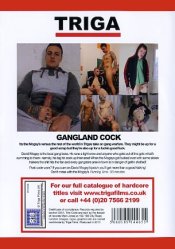 In Gangland Cock, it's the Mogsy's versus the rest of the world. It's Triga's take on gang warfare. They might be up for a good scrap but they're also up for a fucking good fuck.
David Mogsy is the local gang boss. He runs a tight crew and anyone who gets out of line gets what's cumming to them - namely his big fat cock up their arse!
When the Mogsy's get fucked over with some stolen trainers, the shit hits the fan and every gangster's arse in town is in danger of getting shafted! Postcode wars? If you cum on David Mogsy's patch you'll get more than a good kicking! Don't mess with the Mogsy's!

Best of Triga 3 (B-O-T 3)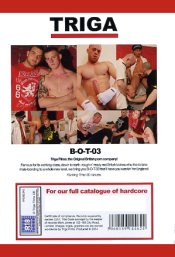 Description / Review:
Famous for its working-class, down to earth, rough n' ready real British blokes who like to take male bonding to a whole new level, Triga bring you B-O-T-3 (Best of Triga 3) that'll have you wankin' for England!
From plumbers, street urchins, chavs and cockney geezers who are gagging for cock, right back to builders and brickies and bent coppers who like nothing better than giving a lad's tight arse a proper good seeing-to, Triga films is the only studio to bring you British blokes like no one else does!

Triga's Big Bugger Bears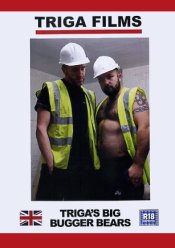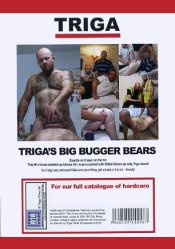 Description / Review:
You've heard of the Three Bears right? Well Triga have got six for you in Triga's Big Bugger Bears, an all British, spunk dripping bear-fest fucktacular - and this load of bears are real big buggers.
Featuring Grizzly bear, Daddy bear and Harvey the cub who gets shagged rotten all round his den. Bear baiting is illegal, but not for these bears.
If you're into furry balls, fuzzy bellies and hairy chests, this is the film for you - and there's not a cute teddy bear in sight!

The Cock Inn - Gay DVD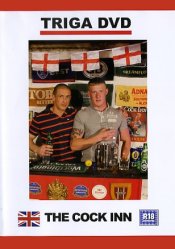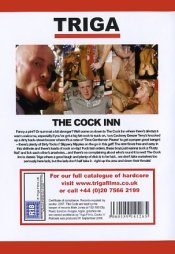 Description / Review:
Fancy a pint or something a bit stronger? Well come on down to The Cock Inn where there's always a warm welcome, especially if you've got a big fat cock to suck on. Cockney geezer Terry has knocked up a dirty back-street boozer where it's a case of Time Gentlemen Please to get a proper good banging.
There's plenty of Dirty Tools and Slippery Nipples on the go in this gaff. The beer flows free and easy and there's loads of cock on-tap. Fuck last orders, these boys just wanna suck a Rusty Nail and lick each other's arseholes - and there's no complaining about who's round it is next.
The Cock Inn is classic Triga where a good laugh and plenty of dick is to be had and the lads don't take themselves too seriously. Although they do take it - right up the arse and down their throats. Move over Tom Cruise, they've got fit lad Terry serving the drinks and it's his bar, so if anyone's having a blowjob he's having one first. So lads, if you like a drink and a laugh whilst licking on a pair of sweaty balls, then come on down to The Cock Inn where the drinks might taste like piss, but that's got nothing to do with the beer!
Terry steps goes extra mile after a barrel of ale and when there's no bird around he gets his straight cock serviced for the very first time by a bloke. 100% straight and 100% swallowed!

Screws - Gay DVD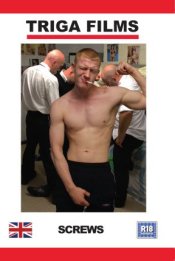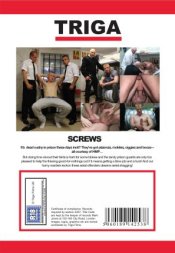 Description / Review:
Prison guards ain't called Screws for nothing! It's dead cushy in prison these days innit? They've got plasmas, mobiles, ciggies and booze - all courtesy of HMP. But doing time without their birds is hard for some blokes and these randy prison guards are only too pleased to help the thieving good for nothings out, especially if it means getting a blow job and a fuck.
These horny warders reckon the incarcerated serial offenders deserve serial shagging. So it's stand by your beds lads and bend over when the officers say so - and call me Sir while you're at it!
These lippy tagged-up boys have to learn to earn their privileges the hard way - by servicing a whole lot of Jailhouse cock!

Blokes Down The Boozer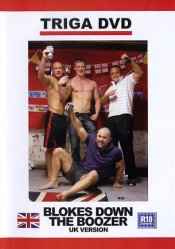 Summary

Its drinks all round in Blokes DownThe Boozer, a Triga fuckfest in which blokes go down their mate's boozer then blokes go down on their mates.
Six horny lads chilling and having a laugh want a blowjob - and they don't care how they get it! Wanna fuck the birds? No, not possible and there's no stripper around, so these lads fuck each other senseless and get wasted. Definitely sounds like a Triga flick.
So if you liked Scally Boy Orgy, Cum On England or Council Scum, then Blokes Down The Boozer is definitely one for you. It's laid back and natural filthy and dirty - the lads get pissed and then take the piss if you get the drift. Chris the Scouser shows himself off, proper British and fit as fuck.
Watch him get banged - after all it is a party. Cop a load of blonde Liam while you're at it. This fit bloke is from Reading and he knows what he wants.
Get yourself a beer and whip off your boxers and settle down for some pure Triga magic! It's got it all - tattoos, muscle, beers, smokes and loads of hot cock. So get the drinks in lads, this is one fucking party you don't wanna miss!

Skinheads: Cum Dumpers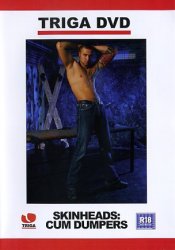 Summary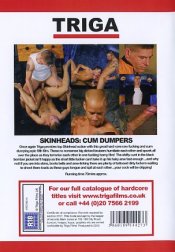 Once again Triga provides top Skinhead action with banging, rough fuck scenes and agro galore in Skinheads: Cum Dumpers! These no nonsense big dicked bruisers humiliate each other and spunk all over the place as they terrorise one another in this fucking horny film.
The shifty cunt in the black bomber jacket isn't happy as the short little fucker can't take it up his hairy arse fast enough. Why not? If you are into Lonsdale, boots, belts and arse-licking, there are plenty of tattooed dirty fuckers waiting to shoot a load as these guys tongue and spit at each other.
If you want steak for dinner you gotta have fucking fillet and these pieces of prime meat will have you creaming in yer pants. Fuck the mustard - give me the cream!
These shaven headed fit fuckers plough each other's arses and are happy to dole out punishment as only a proper skinhead can. Solid, aggressive - and damn hot!

If you're into Skinhead boys, then check out these other skinhead titles from Triga:-
Skinheads, Skinhead: Control, Skinheads Revenge, Skinheads Stiff Labour, Skinheads The Doormen Uncut, Skinhead The Medic Sessions
Triga Films: Job Seeker's Allowance
Get a job? We can't be fucked and, anyway, we get Job Seeker's Allowance! Well lads, Triga thinks it's time to get off yer arse and get up someone else's in this action packed Triga production.
There's plenty of cock on the dole here, as a whole host of new gobby British geezers apply their skills and learn some new ones as they suck cock and get fucked. Who needs a fucking CV?
Watch smooth redhead Damian with his big dick improve his cock and ball skills as he gets banged senseless by fit lad Craig. Who gives a shit about his interview technique? Fit Manc lad Ste doesn't need a reference as he sucks scouser Curtis's big thick cock before a good fucking arse licking. So if you're into fit British lads and a bit of rough action, get down to this fuckin' Job Centre and suss out the cock!
Trust us, your zip will be down faster than you can say You Got The Job Mate in this horned up free-for-all classic British Triga production!


Spend £100+ with SimplyAdult to qualify for a free DVD (value upto £20)
When you buy gay DVDs from SimplyAdult, from a choice of over 13,500 titles, if your order totals £100 or more, you can choose an additional dvd from anywhere on the site (upto value £20) absolutely free!
Discount prices & low cost delivery.

A-Z Triga Gay DVDs
Triga Gay DVDs - Home
5-A-Side Piss Up
Also Made In England
Auditions: Groping Hands
Auditions: Rough As Fuck
Auditions: Rugger Buggers
Auditions: Skins & Scallies
Auditions: Sporting Heroes
Auditions: Yobs In Kit
Bangin Builders
Best Of Triga 3
Best Of Yankee Fuckers
Blokes Down The Boozer
British Bad Lads
Bouncers
Builder's Orgy
Carpet Burns
Cock Of The North
Cocks 'N' Robbers
Confessions Of A Randy Window Cleaner
Council Double
Council Scum
Cum On England
Dads And Lads Council House
Dads and Lads Double (2 DVD set)
Dads And Lads Night In
Dads And Lads Weekender
Double Auditions (2 DVD set)
English Scally Collection
Football Double (2 DVD set)
Football Highlights
FootBall Orgy 1
Fucking Gangstas
Gangland Cock
Hard Top Skinheads
Job Seeker's Allowance
Made In England
Man and Van: Joe The Plumber
Piss Double (2 DVD set)
Pissing For England
Pool Room Scallies
Proper Hardcore
Rugby Classics
Rugby Double (2 DVD set)
Rugby Fuckin' League
Rugby Fuckin' Union
Rugby Orgy
Saturday Nite Special
Screws (2013)
Skinhead Nation
Skinheads: Brawlers
Skinheads
Skinheads Boots N Muscle Uncut
Skinheads Control
Skinheads: Cum Dumpers
Skinheads Revenge Uncut Version
Skinheads: School Of Hard Cocks
Skinheads Stiff Labour
Skinheads - The Doormen Uncut
Skinheads - The Medic Sessions
Skins UK Double (2 DVD Set)
Straight, Northern N' Broke
The Cock Inn
The Postman Always Fucks Twice
The Removal Men
The Sparky's Apprentice
Thievin' Robbing Bastards
Triga's Big Bugger Bears
Triga's Toy Boys
Wet And Raw
White Man Van
Young Offenders
UK Gay DVD Directory